Six Senses Fiji is a haven for health and wellness holidaying
The brand's H&W programs merge with a new push for sustainable luxury.
One might worry that with a major international brand such as Six Senses, there could be a certain sameness to the experience, whatever the location. But its new Six Senses Fiji resort on majestic Malolo Island is profoundly, authentically Fijian.It all stars with a traditional Fijian welcome song, and continues with the design of the resort. Masterminded by Kiwi and Australian architects Richard Priest and Peter Rankin, it is modelled on a Fijian village, complete with thatched roofs and stone sourced from nearby Momi Bay.
Lining the turquoise lagoon, which offers all-tide swimming, are the resort's 24 villas, all of which have private pools, high-end audio systems, a DIY cocktail kit for poolside cocktails, and a personal 'Guest Experience Maker'.
Along the beach, one also finds the residences, designed for groups and families to really settle in – with between two and five bedrooms, a full kitchen and laundry, and larger pools, cabanas and sunken lounges built for relaxation. Sustainability is a key plank of the Six Senses approach, and in Fiji, that means using as much local produce as possible. Heard of moringa?
Touted as a superfood to rival kale, it's just one of the local foods that Six Senses Fiji is cultivating and using in its cuisine, wellness treatments, essential oils, and even cocktails. Other plants such as uci, known as 'Fijian Vicks', layalaya, a wild ginger, and nama, also known as sea grapes or green caviar, also pop up on menus in restaurants, bars and spa alike.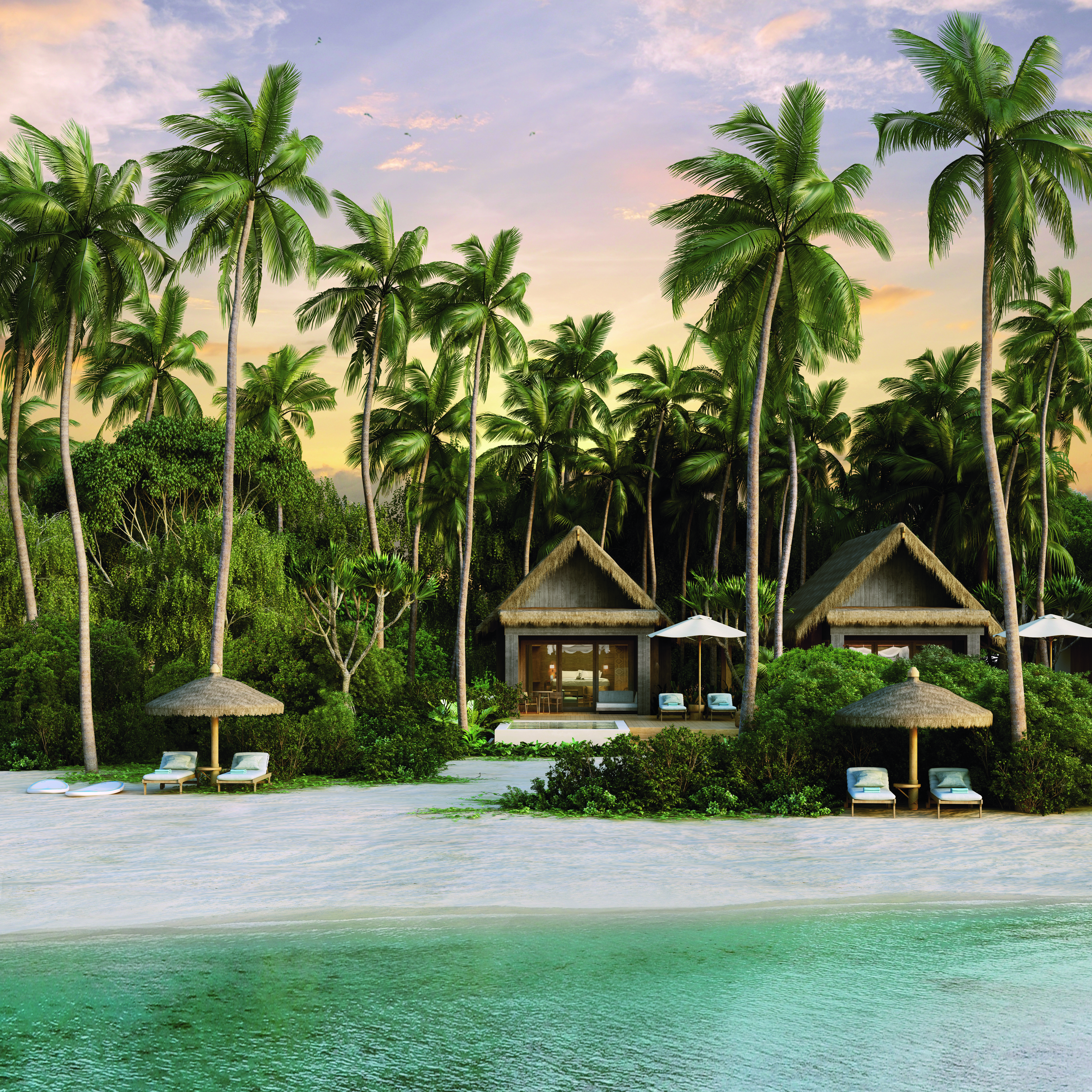 For a relatively small resort, there is abundant choice when it comes to eating, with three restaurants overseen by executive chef and Sydney's Restaurant Balzac alum Ihaka Peri. As well as Tovolea, which fronts the resort's main pool and provides more formal, Fijian-inspired dining, RaRa ('village square' in Fijian) serves casual options, alongside a cafe, scooping the free ice-cream that is a Six Senses signature, and gourmet deli for guests wishing to cook in their residences. TeiTei Pizzeria also services the outdoor cinema.
There are, of course, all the hallmark Six Senses wellness programs. The Wellness Village is the epicentre for fitness activities, spa treatments and other consultations offered as part of the 'Integrated Wellness Experience', which covers aspects such as nutrition, sleep and detoxification. There is a spa, sauna, hot and cold plunge pools, and a gym – although this has intentionally been kept small, with outdoor training options including a 'jungle gym' and Crossfit-style circuit winding its way up the hill to Malolo's highest point.
As well as boasting 360-degree views over the archipelago, it is also the site of an old wartime bunker. As a complement to Malolo's charms, a day trip to Malamala Beach Club (malamalabeachclub.com) could be in order.
Malamala sits on its own tiny island (you can walk around it in 20 minutes). Hire a private cabana to enjoy uninterrupted views from a day bed and butler service of cocktails and delicious South Pacific-inspired dishes of mochiko chicken, kokodawith nama, and a tuna poke koko bowl, from a menu designed by Australian executive chef and local TV personality Lance Seeto.Surfers chasing the perfect wave will be thrilled by Six Senses Fiji's proximity to five popular reef breaks, including Cloudbreak – a favourite of world champion Kelly Slater – with luxury surfing academy Tropicsurf basing its first Fijian outpost at the resort.
Scuba diving, snorkelling, paddleboarding and sailing allow guests to get up close and personal with the warm waters and vibrant reefs of the Mamanucas, with some special night-time options for the brave.Globally, Six Senses has a goal to eliminate single-use plastic in its resorts by 2020, and Six Senses Fiji bottles water drawn from the artesian bore on-site in glass bottles.
The resort is entirely powered by solar energy, boasting the largest microgrid in Fiji using Tesla batteries. Surplus energy powers the resort's desalination plant, while a Biolytix tank system occupied by tiger worms manages waste. Cleaning products and toiletries have been carefully selected to minimise both packaging and the chemical load on the local area.
This focus on being connected to the land also makes for some unique experiences for guests: they can collect eggs for their breakfast from chickens in the resort farm, gather ingredients from the gardens during outdoor cooking classes, sample honey from the on-site beehives, and mix up body scrubs and soaps in the Alchemy Bar from the herb garden.
For guests who avoid gluten, a dedicated gluten-free baking facility (thought to be a world-first for a resort) whips up goodies using cassava, rice, tapioca and vudi (green banana) flours.
With plenty of buzz about health-enhancing probiotics and fermented foods, Six Senses Fiji adds its own twist via its Living Cocktails series. House-made tonics, shrubs (drinking vinegars – tastier than they sound), bitters, and sodas such as tepache (a drink similar to kombucha made from fermented pineapple skins), as well as house-infused spirits are used in delicious cocktails served up by mixologists, with chefs providing matched canapes during the cocktail hour.
The treetop yoga pavilion, which features traditional and aerial yoga classes (the first in Fiji), provides amazing views of the enormous baka (or banyan) tree at the heart of the resort.
A clutch of trees farther along the island is even more ecologically significant – it is the home of the endangered Fijian Crested Iguana, native to Fiji's islands. There are thought to be only 4000 remaining in the world, with around 30 on Malolo; so far 17 have been spotted on the Six Senses site.
Interestingly, they also sense the weather – when the iguanas are coloured green, there is sun in store, but any other colour and you can expect a low-pressure system to roll in.
Subscribe to the Newsletter
Recommended for you
Set to open next year, the Son Bunyola Hotel is located on a UNESCO world heritage site.
The 169-room hotel will open in winter and features all the Langham brand signatures.