Buy a Rolls-Royce anywhere in the world and you might just get a visit from the CEO
Torsten Müller-Ötvös visits Sydney and discusses Rolls-Royce's ever-younger customers and its all-electric future.
Related articles
Torsten Müller-Ötvös, the Munich-born, enviably urbane CEO of Rolls-Royce Motor Cars, stopped by Sydney earlier this week during a sweeping voyage through south-east Asia and Australia's eastern seaboard. Along with welcome a new "partner" in Rolls-Royce Brisbane, a new dealership that supersedes the brand's previous Gold Coast location, Müller-Ötvös was also on a mission to meet first-hand with customers.

Black Badge
Courtesy Rolls-Royce Motor Cars
When one's brand even in a record 2018 year sells just 4017 cars worldwide, it's quite possible to shake the hands of a significant percentage of them. Fortunately, it's an aspect of the job that the 59-year-old truly enjoys.
"Also, I can't send someone else, because our customers might not [agree to] meet them," he added. "If I am not customer-focused …"

EX103 Vision Next 100 concept from 2016
Courtesy Rolls-Royce Motor Cars
Müller-Ötvös has presided over the greatest shift in Rolls-Royce's customer profile in the brand's 113-year history. "Nine years ago, when I joined, our average customer age was 57 years. It is now 43.
"In Australia (where the brand sold more than 40 cars last year, and holds a "tremendous" order bank for Cullinan), 50 per cent of our cars last year were Black Badge," he explained of Rolls-Royce's sports-themed handling and styling options. "We are now a self-drivers' brand."

EX103 Vision Next 100 concept from 2016 interior
Courtesy Rolls-Royce Motor Cars
As further evidence, Müller-Ötvös cited 2018's worldwide sales of the flagship Phantom limousine. To his evident surprise, the near-$1m limousine constituted 20 per cent of the brand's 2018 sales – with the majority being the standard (rather than extended) wheelbase version, preferred by self-driving customers.
"High Net Worth Individuals are now far younger than they were. It is easier today to make money – with respect, if you are bright enough – than ever before," he said, pointing to those who are making their fortunes from such as apps, digital technologies and innovative property plays.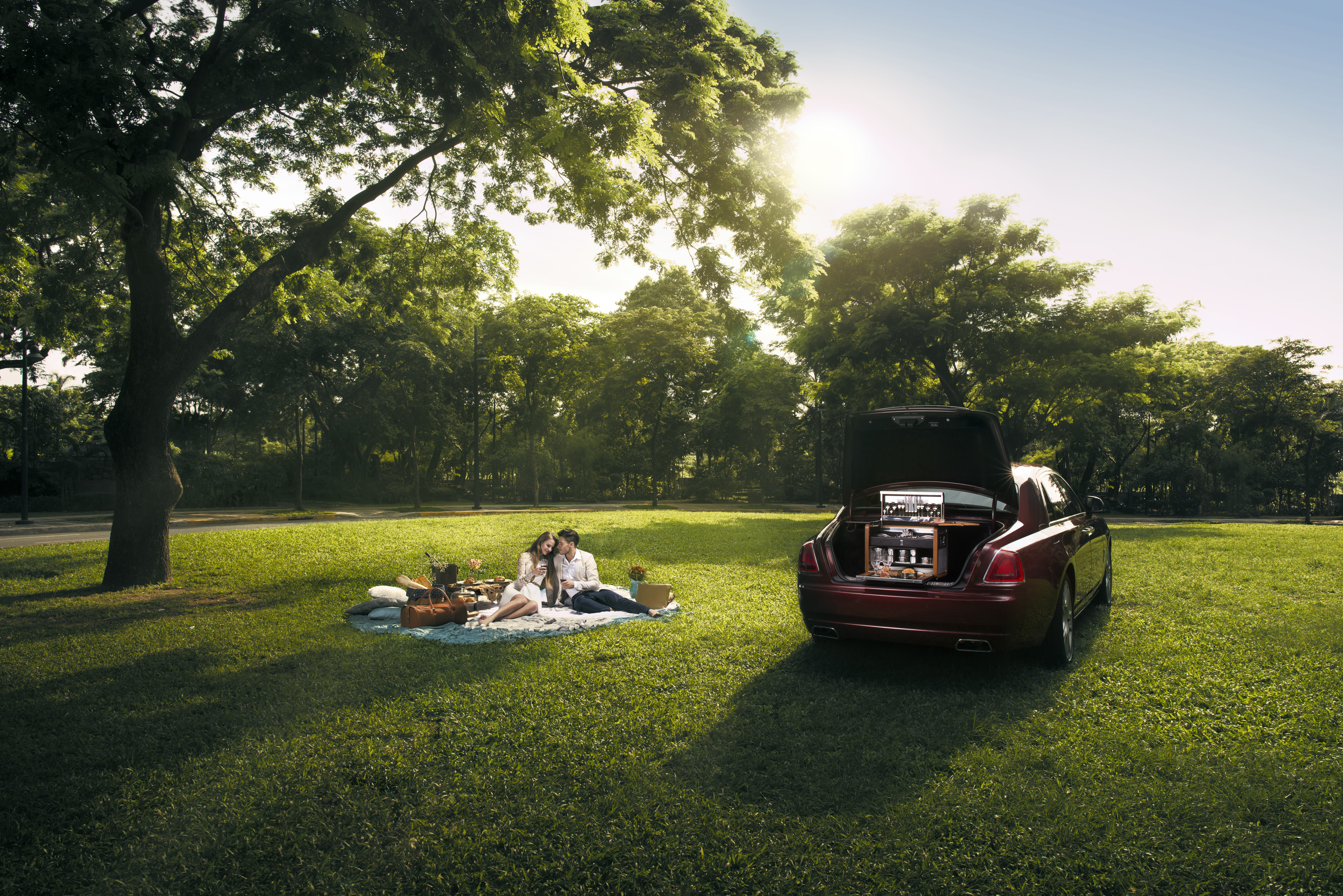 Courtesy Rolls-Royce Motor Cars
People who run their own businesses account for 80 per cent of Rolls-Royce's customers. The other 20 per cent are typically in entertainment, sports or the arts. "This is nothing new," observed Müller-Ötvös with a smile. "There has always been this funky element to our brand … Think back to John Lennon and his Phantom, painting it yellow …"
Despite the increasing number of Rolls-Royce customers who enjoy their cars from behind the wheel, rather than behind a chauffeur, Müller-Ötvös acknowledges that Rolls-Royce "is not in the car business; we are in the luxury business. Our clients have Teslas, Ferraris, everything people would love to have in their garage. Our cars are bought as pieces of art, for fun … it's like commissioning a masterpiece."

Bespoke timber inlay in Phantom
Courtesy Rolls-Royce Motor Cars
The Cullinan, meanwhile, has done rather well for a "piece of art" in drawing 60 to 70 per cent of its sales as conquests from other luxury SUVs. "Cullinan is the first Rolls-Royce that is practical," he said.
Despite what you hear from some quarters, the luxury business is a good one to be in. Rolls-Royce's state-of-the-art Goodwood plant has increased its employees from just 800 when Müller-Ötvös joined nine years ago, to 2000 with a new intake of 200 at the end of last year.

Starlight roof lining being made
Courtesy Rolls-Royce Motor Cars
"The number of Ultra High Net Worth Individuals is constantly growing at an average of 3 per cent year on year – and if you stay in touch with them and keep delivering what they want, they are prepared to spend," he said.
He is naturally confident that the re-shaped Rolls-Royce brand – "more informal, relaxed, capable" – has the right ingredients to weather the automobile's forthcoming transition to zero-emissions and autonomous driving.

Bespoke interiors picnic set
Courtesy Rolls-Royce Motor Cars
"Rolls-Royce will be fully electric in the next decade," he said, adding that there would be no stop-gap hybrids during the transition. "We are not the ones with roaring engines, so electric power is perfect for us. Our owners want new technology when it brings them advantages. There is no resistance to electric power, so long as charging is easy – such as with 'hands-free' [robotic-arm] charging – and there is no concern over range."

EX103 Vision Next 100 concept from 2016
Courtesy Rolls-Royce Motor Cars
Looking farther into the future, Müller-Ötvös spoke of autonomous driving, artificial intelligence, and of a combination of new manufacturing technologies and traditional hand-coachbuilding skills that will enable truly bespoke custom bodies. This was previewed in 2017 with the company's $17.5m "Sweptail" commission for a private customer – and to an even more dramatic extent in the "Vision Next 100" EX103 concept car from 2016.
"The biggest hindrance is legislation," he said. Passive (crash) safety design is currently a leading dictator of the structure and shape of cars – as is aerodynamic performance, to meet strict fuel economy requirements. "But automated cars, with their communications and collision-avoidance systems, might lead to more relaxed legislation, which could make it easier to allow bespoke coachbuilding."
Subscribe to the Newsletter
Recommended for you
The gorgeous grand tourer will be sold at the Monterey Jet Center Auction this August.
The 463kW convertible's striking aesthetic belies the emphasis on tech.