From a Cambodian Wellness Resort to a Women's-Only Tailor: 6 New Things You Need to Know About
Muse writers and staff take a closer look at the season's rising stars and revolutionaries.
Related articles
Spring has finally arrived, and we have uncovered the newest products, places and experiences you need to know to kick-off the season. From a London-based, women's-only tailoring shop to a collection of Instagram-inspired acrylic paintings, here are the next big things on our experts' lists.
Six Senses Combines Well and Good in Cambodia
Six Senses has been pushing its admirable agenda of sustainability and wellness since 1995, long before it was the trendy thing to do. Twenty-four years later, the arrival of Six Senses Krabey Island — the brand's 16th property, which opened in March on an isle off the southern coast of Cambodia—is an evolution of that ethos, where culture and nature brilliantly collide. Just 40 villas are burrowed in the 30-acre island's jungle, leaving beaches untouched—an unusual move for a tropical resort but one that respects the native landscape—and ensuring enough privacy among the trees for anything: a spa treatment on your terrace, a midnight dip in your infinity pool, an afternoon nap with the doors swung wide open. It's the Six Senses way, however, to lure you out of the confines of your private oasis, so there's also forest bathing beneath the banyans, yoga in a rooftop pavilion, authentic fish curry in a tree-house restaurant and meditation in a cave hidden inside a monastic stone-clad hilltop. Sounds like an agenda we can get on board with.

Six Senses' Krabey Island, off the southern coast of Cambodia
Photography by Kiattipong Panchee
The Deck: London's New Tailoring House Just for Women
Tailoring has traditionally been a men's business, but once a woman has a made-to-measure suit—one that enhances her assets and conceals any flaws—she's quick to recognize why everyone needs a go-to tailor. With that in mind, Daisy Knatchbull (pictured), former communications director at Savile Row tailor Huntsman and great-granddaughter of the 1st Earl Mountbatten of Burma, is launching London's newest tailoring shop—for ladies only. Slated to open in April on the King's Road, The Deck offers just four suit styles, including a single-breasted blazer with straight-leg trousers and a double-breasted blazer with flared pants. The suits ($3700) are also sold as separates. They can be made in a variety of fabrics and linings, and modified to satisfy any whim. Perhaps you want a power suit (think strong shoulders, nipped at the waist), a bright floral-print lining or a fancy velvet collar? The choice is yours. —Jemima Sissons

Daisy Knatchbull, founder of women's-only tailoring shop The Deck
Photography by Charlie Taylor
A Designer Takes the Reliable Locket from Memento to Momentous
Jewellery can pack real power. It's worn, as it has been for centuries, for any number of compelling reasons—to bring good fortune, to signify love and betrothal, to denote authority. So why adorn yourself now, at this particular moment in time? Female empowerment, for starters. With this in mind, women are turning to designer Monica Rich Kosann for her 18-karat gold and sterling-silver lockets, which can be personalised with meaningful words, memes, or images that encourage and inspire. One recent client of Kosann's had her gold locket inscribed with the words "I win" to celebrate a hard-won divorce.
"There is so much noise out there with social media," says Kosann, whose New York–based brand offers a range of customisable jewellery. "These lockets are something personal and private, and a reminder of what matters to you." And if you choose to leave life-affirming words of wisdom out of your locket, more power to you: It's still a stylish accessory. *—Jill Newman
*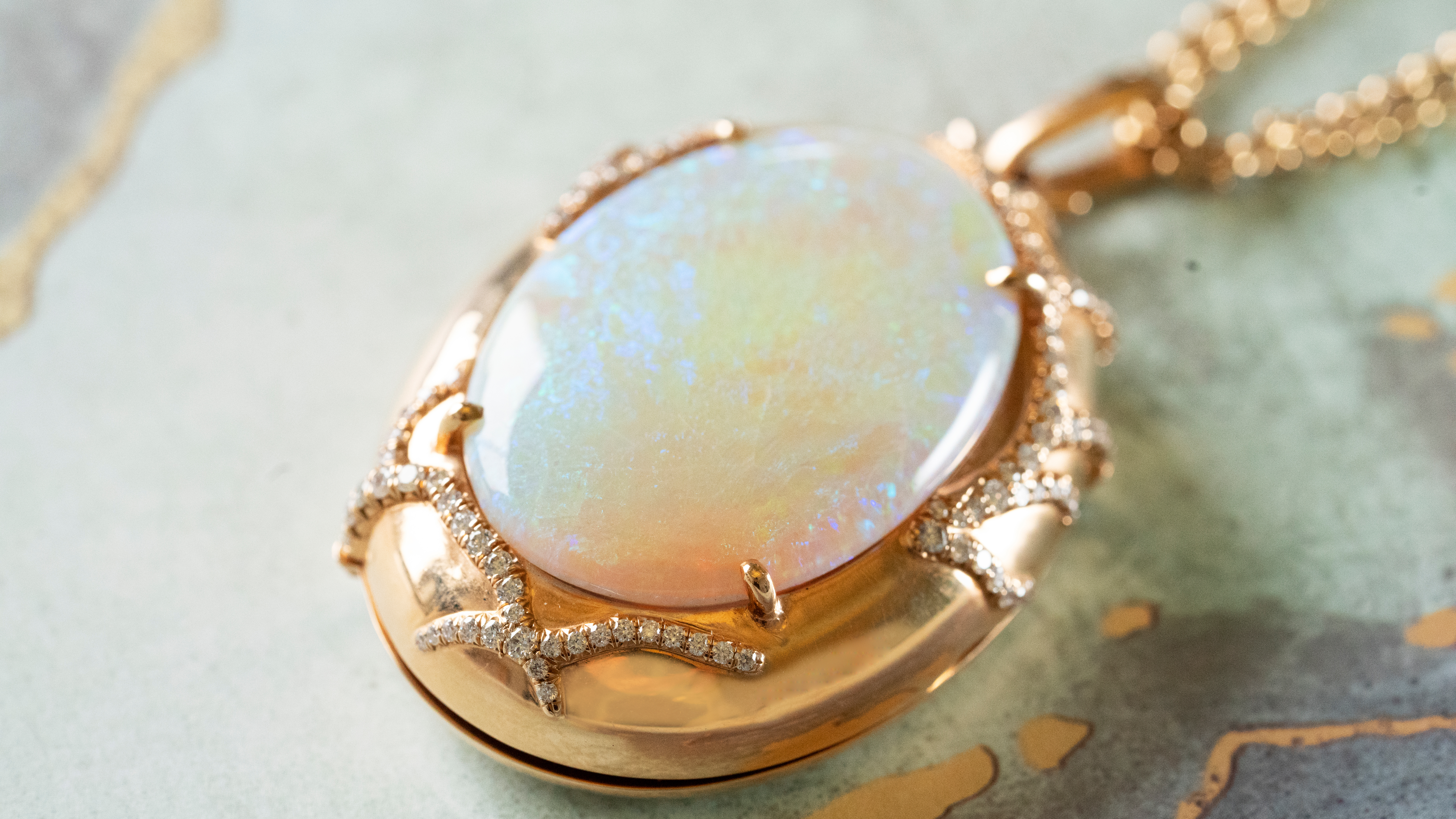 Monica Rich Kosann's customizable, 18-karat-gold locket
Photo Courtesy of Monica Rich Kosann
Instagram Inspires an Artist's Seriously Witty Paintings
Scrolling through Instagram may be Americans' number-one method of procrastination, but for artist Gina Beavers, the app has fuelled a burst of creativity, the fruits of which are on view in a solo exhibition at MoMA PS1 in Long Island City, New York, through September 2.
Beavers broke through in recent years with vividly coloured, dimensional acrylic paintings that hover between whimsical and pointed, based on social media images of make-up tutorials and so-called food porn. There are close-ups of luscious, pouty lips and thick, raw steaks, as well as rear ends frosted like birthday cakes. "It has to do with these cultural groups that are artistic but outside of mainstream art," says Beavers, noting that makeup artists even use the same tools she does, such as brushes, pigments and pencils.
Sometimes her themes converge, as in the double take–inducing Burger Eye (2015), a rendering of a closed eye made up to look like a cheeseburger, the lid brown and dotted à la a sesame-seed bun, the lashes green like shredded lettuce. For her PS1 show, Beavers, who recently moved her studio to Newark, New Jersey, painted an image of fingernails, each polished and built up to resemble an ear of corn.
Equal parts realistic, abstract and surreal, her works engender confusion in much the way the internet itself does. Some, such as the self-explanatory Starry Night by Vincent van Gogh as Rendered in Bacon (2016), are downright hilarious. While it's easy to interpret her van Gogh series as a comment on the commodification of his art, and her Instagram-influenced paintings overall as laments about our current epoch, Beavers does not consider herself a social critic. "I see myself as an observer," she says. "I don't think I'm doing any political heavy lifting." —Julie Belcove

Gina Beavers' Cake, 2015, acrylic on canvas panel
Photo: Courtesy of Gina Beavers
Biologique Recherche Is the Master of Clean Lines
It's a hazardous world out there, especially for your face. Pollution is wreaking havoc on our skin, but the scientists behind the cult French skincare brand Biologique Recherche are helping to clean things up. The new VIP O2 Anti-Pollution Range, an evolution of the company's popular VIP O2 line, uses super-ingredients like polysaccharides, which create a barrier against UV rays and atmospheric particles, and cotton-stem-cell concentrate, an antioxidant that protects the skin against urban pollutants. In layman's terms: The line is like a shield, protecting your face, body and hair down to a microscopic level—a good thing considering many pollutants are 20 times smaller than the size of a single pore.—Jackie Caradonio

Biologique Recherche's VIP O2 Anti-Pollution Range
Photography by Joshua Scott
Marjan van Aubel Shines a Light on Sustainability
Marjan van Aubel is as much an inventor as she is a designer. At her Amsterdam studio, the Dutch artist, who calls herself a "solar designer," infuses her furnishings and lighting with sustainable innovations, from newfangled materials (including "foaming wood," an expanding composite she created by combining recycled timber with a bioresin) to the latest technologies (such as the solar cells she developed with the Energy Research Centre of the Netherlands). But her pieces aren't just high-tech; they're nice to look at, too. "Every surface is an opportunity to make solar energy more accessible," says van Aubel. "It needs to function, but it also needs to have an emotional connection."
This month, at the Salone del Mobile in Milan, van Aubel will once again combine flawless form and function with new pieces from her Cyanometer collection, which she created for Swarovski after winning the Austrian brand's Designers of the Future Award in 2017 for her "solar crystal" lighting. Inspired by the 18th-century instrument used to measure the colour of the sky, the ring-shaped floor lamps and sconces are an evolution of that concept, further incorporating Swarovski crystals in an intelligent design that is beautiful, bright and delightfully blue. —Alia Akkam

Marjan Van Aubel with her Cyanometer collection for Swarovski
Photography by Mark Cocksedge
Subscribe to the Newsletter
Recommended for you
The line is made up of four expressions—Puncheon, Peated Malt, Spanish Oak and Mizunara.
A quarter-century of giving back to be celebrated in style.